Introduction:
RSVP is the feature that we can use to understand the intent of the applicant regarding a specific question. This feature is a One-time process from the student's end.
Generally, if we recall RSVP is used to understand the number of people interested in an activity organized and college should be able to take action on the basis of the responses. A college can prioritize the interested leads and focus on them so as to get better conversions or they can capture the intent of an applicant if he is willing to pay a token fee or wants to proceed with the further interview process.
Flow:
There is a simple flow of RSVP mailer, such as, whenever a college needs to identify their RSVP audience, they need to send a communication through which we capture the intent.
Here, the communication which we are talking is about EMAIL communication, as it is enabled through only EMAILS.
1. We need to freeze the audience for sending out RSVP communication. Once we freeze the audience, we need to select the appropriate content which is to be sent out.
2. The important difference between other E-mailers and RSVP E-mailers, other than the content, is 2 buttons through which we will be capturing the response of the audience. For Example, We can have a button I Agree and May be Later (Button name can be changed based on requirement)

3. Once all these are configured (you need to connect with your account manager to set this up for you), we will send out the Emailers to the set of audience for whom we need to capture the intent.
4. When the applicant clicks on the button in the Email, their response will be automatically captured in the system and he/she will be taken to the thank you page (as shown below). Here when the applicant clicks on Go To Dashboard they will be taken to their Dashboard. (Note: Thank you page is not customizable and only the first response of the applicant will be captured).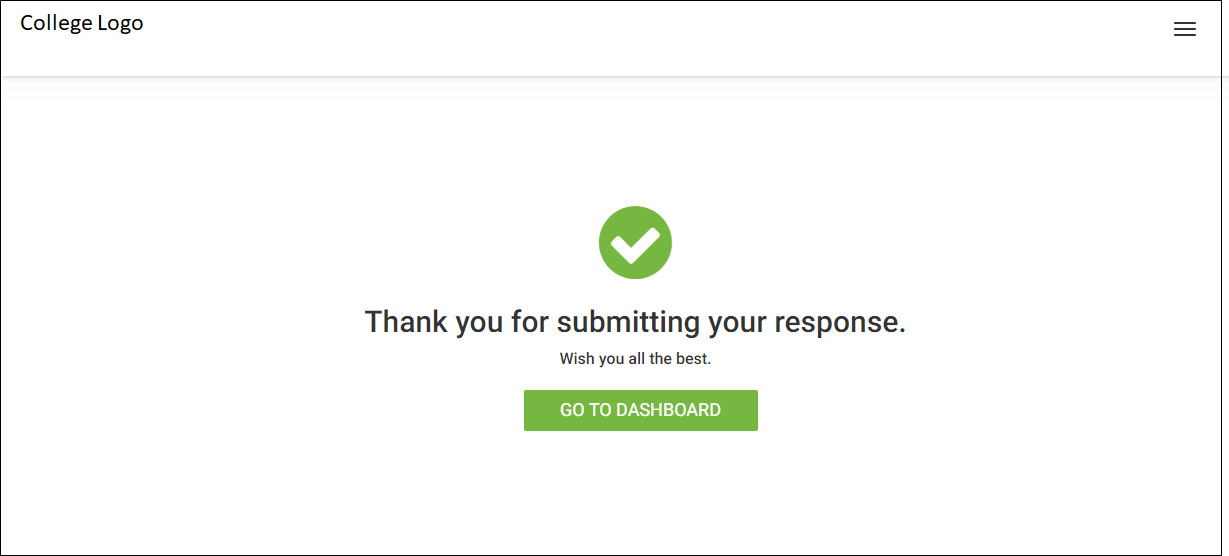 5. Once the applicant submits his response we can view the same in Application manager
(Note: An applicant can submit response only once through the RSVP link)

6. If the applicant tries to resubmit his response, he will be shown the following page i.e., the applicant will not be allowed to update their response